Good quality battery need good equipment, Good equipment requires good service.
04-08-2021
Better (Xiamen) Power Technology Co., LTD., which is mainly specialize in lead acid battery production #equipment, raw #materials and #spare #Parts. It is a rare #manufacturing solution expert and #resource-rich operator in lead acid #battery field in Global.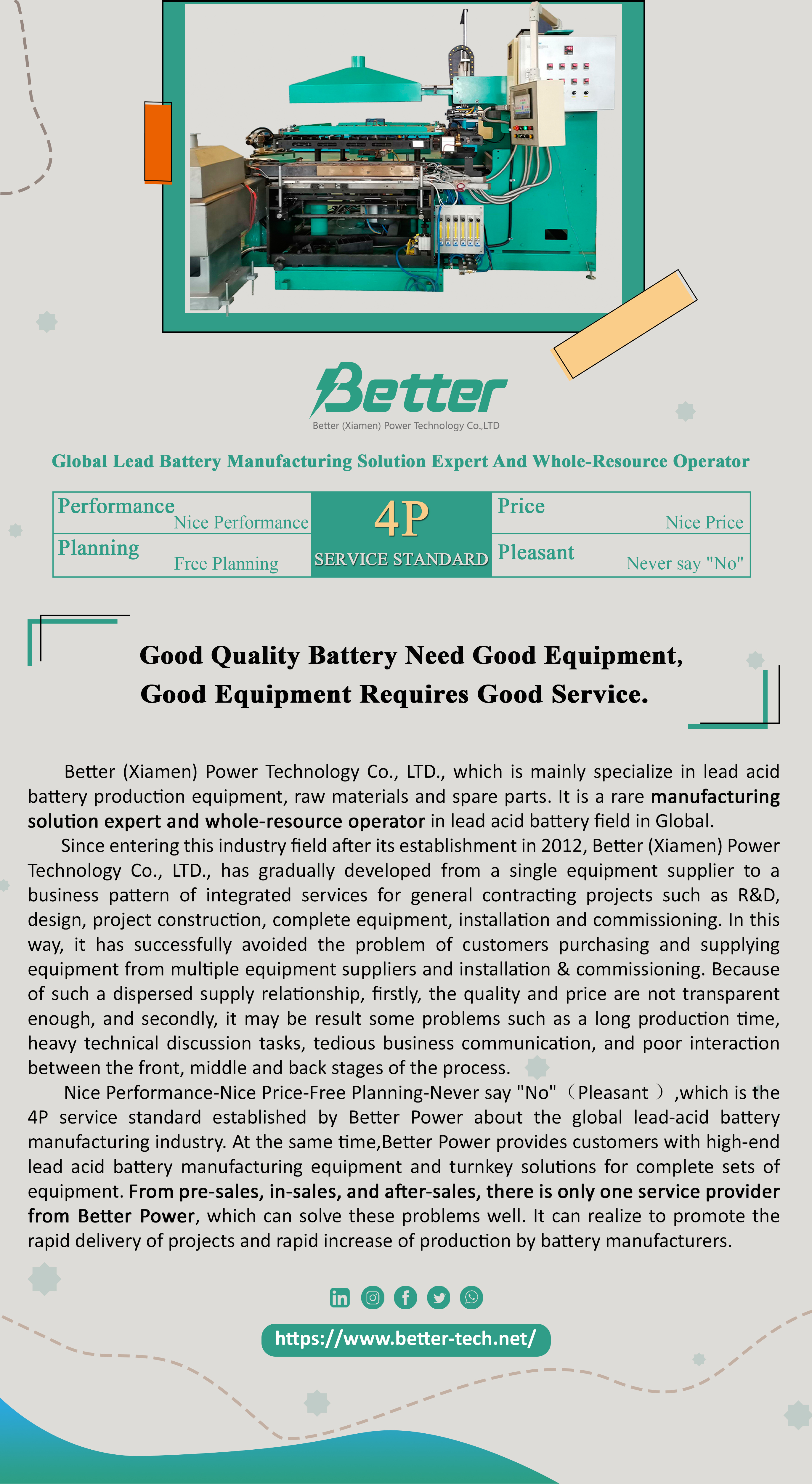 Since entering this industry field after its establishment in 2012, Better (Xiamen) Power Technology Co., LTD., has gradually developed from a single equipment supplier to a business pattern of integrated services for general contracting projects such as R&D, design, project construction, complete equipment, installation and commissioning. In this way, it has successfully avoided the problem of customers purchasing and supplying equipment from multiple equipment suppliers and installation & commissioning. Because of such a dispersed supply relationship, firstly, the quality and price are not transparent enough, and secondly, it may be result some problems such as a long production time, heavy technical discussion tasks, tedious business communication, and poor interaction between the front, middle and back stages of the process.
Nice Performance-Nice Price-Free Planning-Never say "No"(Pleasant ),which is the #4P service standard established by Better Power about the global lead-acid battery manufacturing industry. At the same time,Better Power provides customers with high-end lead acid battery manufacturing equipment and turnkey solutions for complete sets of equipment. #From #pre-sales, #in-sales, and #after-sales, there is #only one service provider from Better Power, which can solve these problems well. It can realize to promote the rapid delivery of projects and rapid increase of production by battery manufacturers.