Enhance the Innovation – Let "Made in China" Be Internationally Recognized
15-07-2021
"The Father of Modern Management" Peter Drucker said that Innovation determines the survival of an enterprise, and the success of innovation depends on whether it can win the market.
In the related fields of lead-acid battery equipment manufacturing, there are still many companies that use past thinking for current marketing, focusing on manufacturing and despising service, focusing production and despising application. They are not paying enough attention to the needs of consumers for modern manufacturing service business, thus, there is no insight into the changes in the market and the consumption scene.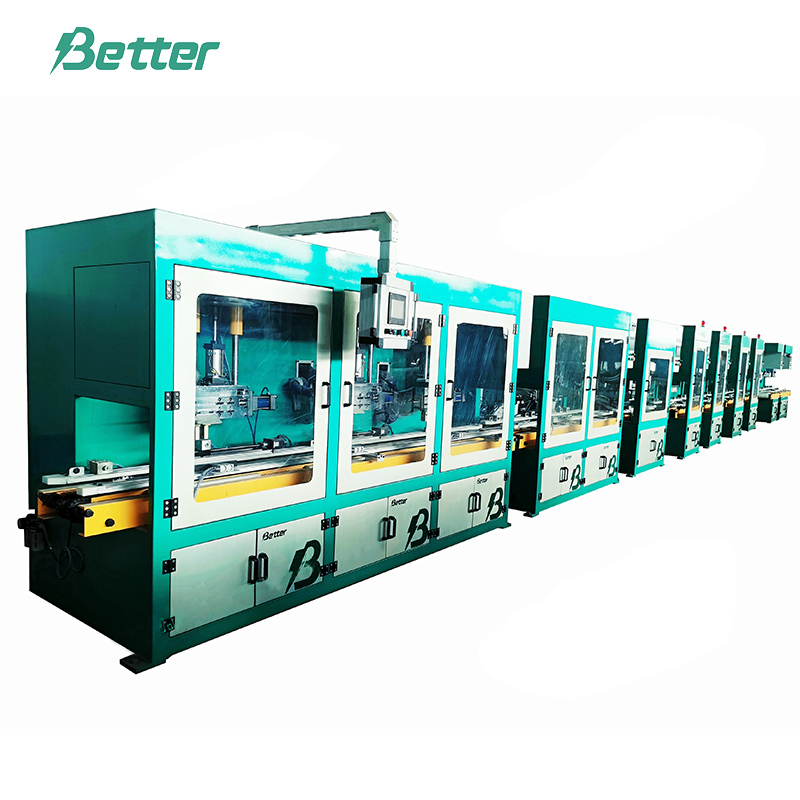 Fully Automatic Battery Assembly Line
In the past, China's lead-acid battery equipment manufacturing industry has accumulated a wealth of practical experience from the introduction of equipment and production technology to independent research and development, especially in the realization of process technology and product equipment accuracy, which has made tremendous progress. Lead-acid battery equipment manufacturing enterprises can carry out a lot of work only around the demand of manufacturing and processing, and have a unique competitive advantage in the global manufacturing industry.
However, with national policies regulating the industry in recent years, as well as the increasing personalized demand from customers, the promotion of new generation process technology, fierce price competition, and rising overall costs, it is urgent for the lead-acid battery manufacturing industry to invest more resources to carry out business changes and upgrades. Moreover, it is not just the upgrading of manufacturing and processing links, but also requires the transformation of the entire industry system, such as technological innovation, production automation, and the integrity of the service chain.
Unlike traditional manufacturing enterprises, Better (Xiamen) Power Technology Co., Ltd. has been based on the development of the global lead-acid battery industry since its establishment, relying on China's strong supply chain system, making full use of the scale and technical advantages of leading lead-acid battery manufacturing enterprises, committing to promoting the transformation of traditional manufacturing to the industrial chain, and vigorously developing integrated services for engineering projects. From a single equipment manufacturing supplier to a business model of general contracting system integration services such as R&D and design, project construction, complete equipment, installation and commissioning. Nowadays, Better (Xiamen) Power Technology Co., Ltd. has basically completed the in-depth integration of advanced manufacturing and modern service industries, and has made new breakthroughs in product development and technological process innovation and upgrading.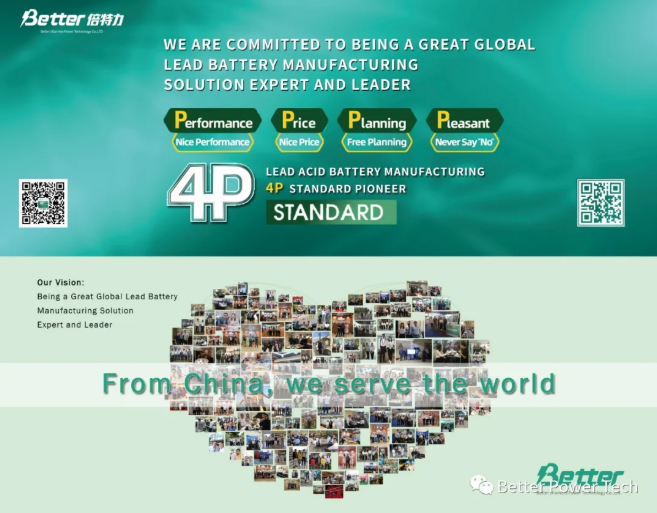 BETTER:LEAD-ACID BATTERY MANUFACTURING 4P STANDARD PIONEER
FROM CHINA,WE SERVE THE WORLD
The special production equipment for lead-acid batteries is a typical non-standardized product, from the introduction of technology to independent research and development, from product based strategy to service based thinking, from traditional manufacturing to manufacturing service industry, especially in today's fierce competition in the lead-acid battery industry, whether it is a manufacturing enterprise or a service-oriented enterprise, it not only needs to have efficient execution, but also needs to continuously improve its innovation ability, and keenly capture market changes and customer needs. Only in this way can its foundation be long-lasting.