China surpass Germany at the first time and become champion of equipment export in the global
20-07-2021
Recently, according to the German "Die Welt" news, the German machinery and equipment manufacturing federation (VDMA) latest research pointed out that affected by the epidemic, the global machinery trade volume in 2020 will be about 1.05 trillion euros, sales than a year ago reduced by nearly 10%. China has overtaken Germany for the first time to become the world's champion exporter of machinery and equipment.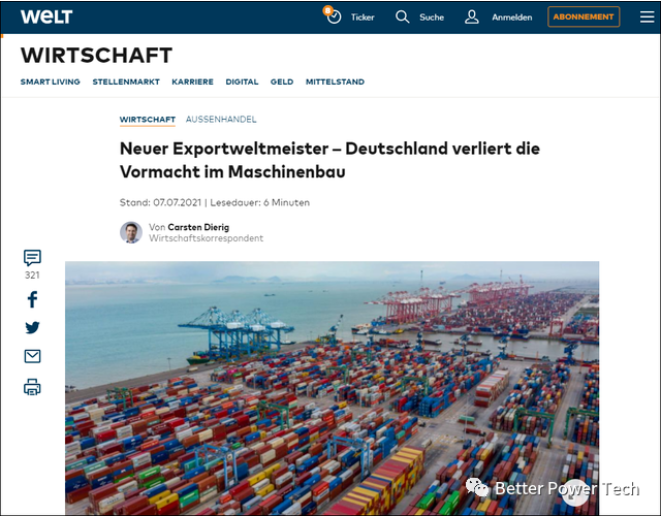 As for China overtaking Germany as the "world champion of machinery exports", VDMA's foreign trade director, Mr Ackermann, said the change was not surprising. "China has been the world's largest machinery manufacturer for many years," he said, with sales of machinery products in China last year totaling €924bn,almost as much as the combined revenues of the next four countries. (the US, Germany, Japan and Italy).It is only a matter of time before China becomes the leader in foreign machinery trade.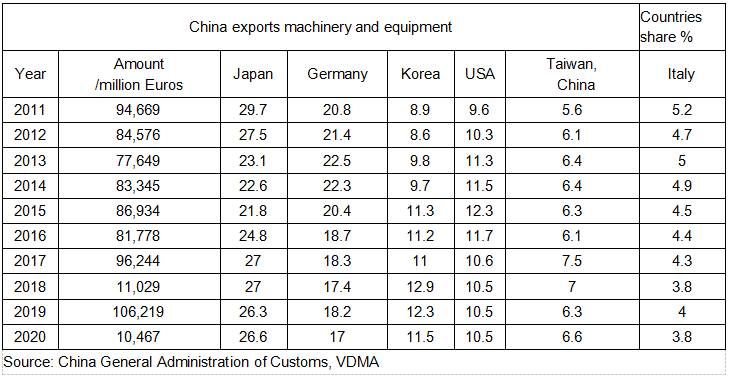 According to the report, the epidemic has provided a strong impetus to the rise of Chinese machinery products, while countries in Europe and the United States, such as Germany, have suffered serious setbacks. China's machinery exports are no longer confined to emerging markets such as Africa and Asia. Even in Germany, China is now the biggest foreign supplier. In the case of VDMA, more than a tenth of the companies have production facilities in China.
The report also said that China has made significant progress in many areas and has become a strong competitor to "Made in Germany". In addition, China has discovered the "importance of standardization" and is becoming the maker of international standardization, creating conditions for the export of machinery. However, the report also argues that China still lags behind international competitors such as Germany in areas such as "Industry 4.0".
In the field of lead-acid battery machinery and equipment, lead-acid battery still occupies the vast majority of the domestic and foreign lead-acid battery market because of its unique advantages of mature technology, super high quality and price ratio, and high safety. Under the guidance of such market demand,and the background of China's manufacturing industry has repeatedly ranked first in the world, the development of special production equipment for lead-acid battery is changing with each passing day. In recent yearsthe domestic lead acid battery production equipment has strong personalized customization capabilities, fast technology research and development innovation, rapid market response, and mature project overall planning and construction goals, which have become more and more popular in other developing countries. Take the development situation of Better itself as an example, the company has been committed to providing customers with high-end lead-acid battery manufacturing equipment and turnkey solutions for complete sets of equipment. At present, the company has exported more than 3000 sets of lead-acid battery equipment, and its business covers more than 60 countries, which is well recognized and supported by customers in many countries around the world. In terms of technology research and development and product process, the company will continue to invest a lot of resources, and strive to continuously enhance its influence in the global manufacturing and lead-acid battery manufacturing industry.