Better Group took part in the Egypt Energy Expo by displaying lithium battery energy storage system
From October 30th, 2022 to November 1st, 2022, Egypt Energy Expo 2022 was held in Cairo, Egypt as scheduled, and many cutting-edge technologies and products were on display. Better Technology Group Limited (hereinafter referred to as Better Group), as a battery manufacturing solution service provider and full resource operator positioned in the development of global business, appeared at the Egypt Energy Expo, which not only demonstrated Better Group's innovative technology to overseas customers, deepened exchange and learning with foreign markets, but also demonstrated the innovative production strength of Chinese energy storage enterprises.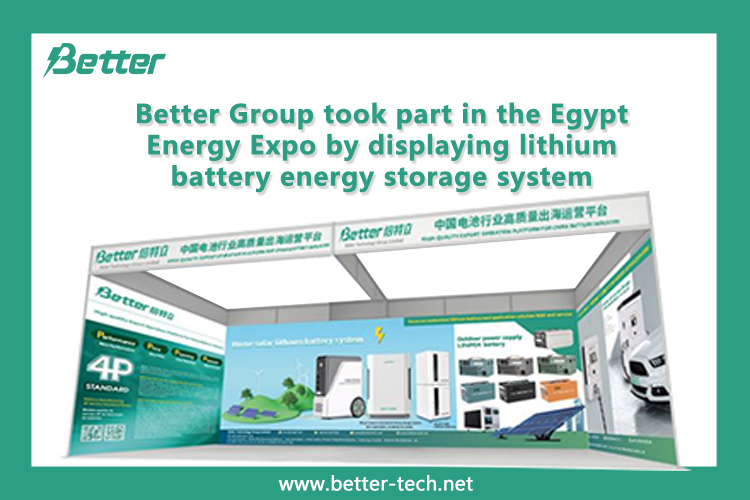 In this exhibition, Better Group particularly displayed the company's outdoor portable power station, home energy storage system, industrial and commercial energy storage system, charging pile and other series of products in the lithium battery business, use science and technology to empower wisdom, let focus bring up quality, focusing on energy storage safety and efficiency, provide a rich product portfolio and comprehensive solutions to help the majority of household and industrial and commercial users transform from traditional energy to new energy, realize self-generated and self-used electricity, reduce electricity cost, with intelligent background management, fully meeting the needs of various energy storage scenarios.

Among them, wall-mounted household energy storage series products-10kWh wall-mounted energy storage battery supplied by Better Group is particularly eye-catching, which has high energy density, good compatibility, compact design, long cycle life and other characteristics, suitable for backup power system, solar off-grid system, household energy storage system.
10kWh powerwall home energy storage battery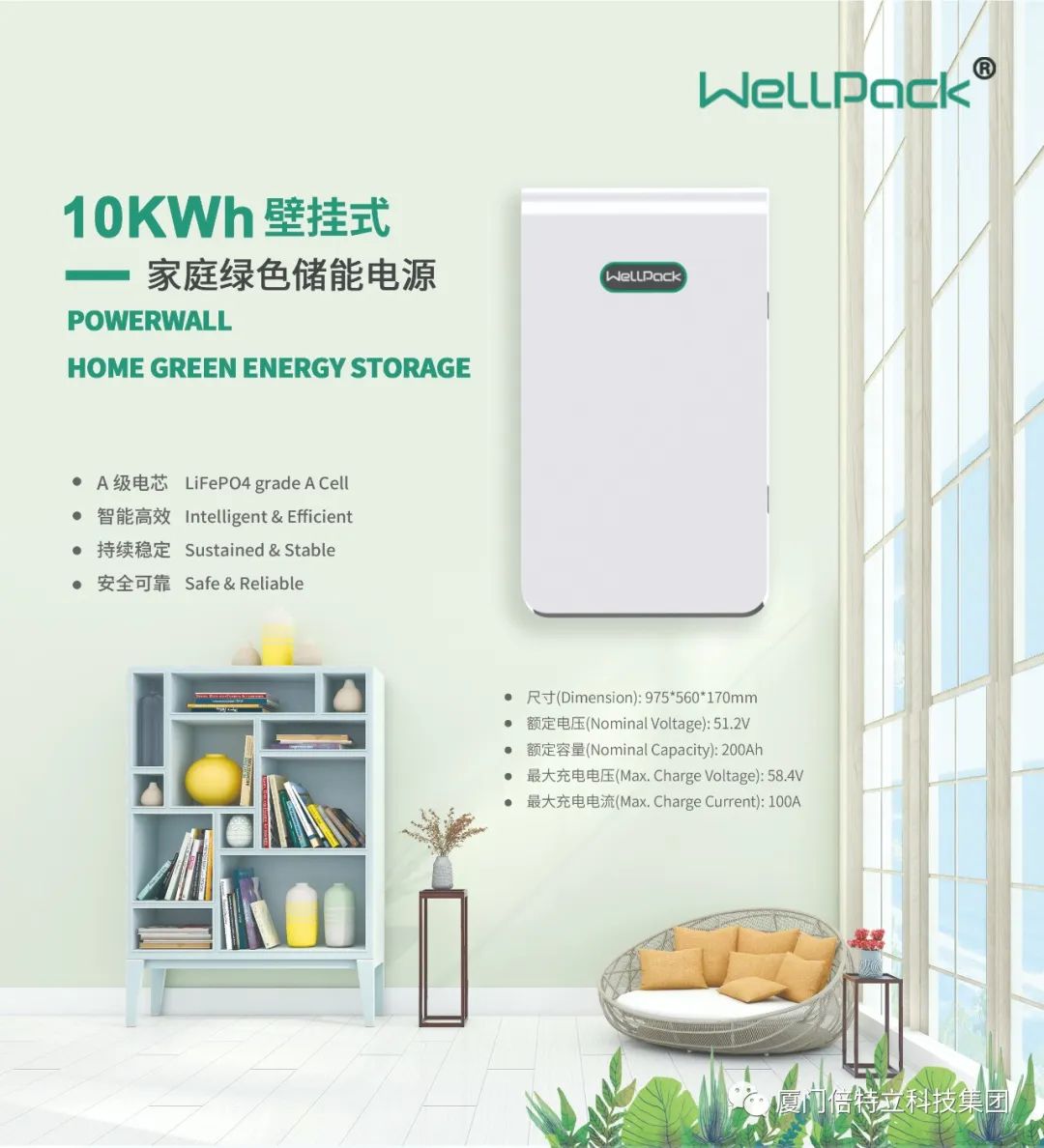 Larger battery capacity and higher output power

High safety grade, high energy density of lithium iron phosphate batteries

Compact wall-mounted design to save ground installation space

With the installation support, convenient for installation, easy to carry with both sides of handle

Large capacity design of 10kWh to save on installation costs and simplify cabling

Good compatibility

Long cycle life: 6,000 cycles, 90% DOD

Fashion design

With high-end trend of new technology, green and low-carbon lithium batteries lead the new social fashion



At the scene, the booth of Better Group attacted numerous visitors, Better Group answered questions one by one regarding the application of battery manufacturing technology put forward by many related professionals and customers, enthusiastically introduced company's technological innovation and product advantages in the battery manufacturing industry, and had in-depth discussion and communication about the application and technical direction of the products in the future international market. After in-depth communication with customers, customers showed great interest and strong cooperation intention in Better Group's products. Better group also expects that this exhibition will establish closer and more stable partnerships with our customers, and work together to promote global sustainable and green development.




At the same time, Better Group was also invited to participate in on-site interviews with Xinhua News Agency and other media. This is not only another exchange between Made in China and the world, but also another landing promotion for Better Group to actively practice the corporate mission of "Let Made In China beatify the world". Better Group's product research and development, technical innovation, professional level and service level were praised by Xinhua News Agency's media interviewers on the spot.




Starting from China, we serve the world. With the continuous development of new energy industry and energy storage technology becomes mature gradually, Better Group has always been adhering to the business philosophy of "science and technology empowers the service innovation" , being committed to manufacturing innovative products and solutions to continue to meet different needs and use characteristics for customers, actively exploring the international market, so as to provide customers with more flexible electricity new experience.

In the future, Better will continue to adhere to the vision of being the "high quality export operation platform for China battery industry", provide R&D and design, project planning, complete set of equipment, installation and commissioning, technical output, technical training, after-sales guarantee and other general contracting system integration services, continue to adhere to the mission of "let Made In China beautify the world", continue to explore, innovate and accumulate in the global battery manufacturing industry, to provide customers with more perfect battery manufacturing solutions and promote the spread of Made In China to the world.







-->