Well-known magazine PB-S. AMERICA interviewed Polly, chairman of BETTER Power Tech
09-09-2021
Pb-S.AMERICA, a well-known magazine in the lead battery production chain industry in South America, interviewed Polly, Chairman of Better (Xiamen) Power Technology Co., Ltd.
——一COVID-19 ONE YEAR AFTER:THE READERS' OPINION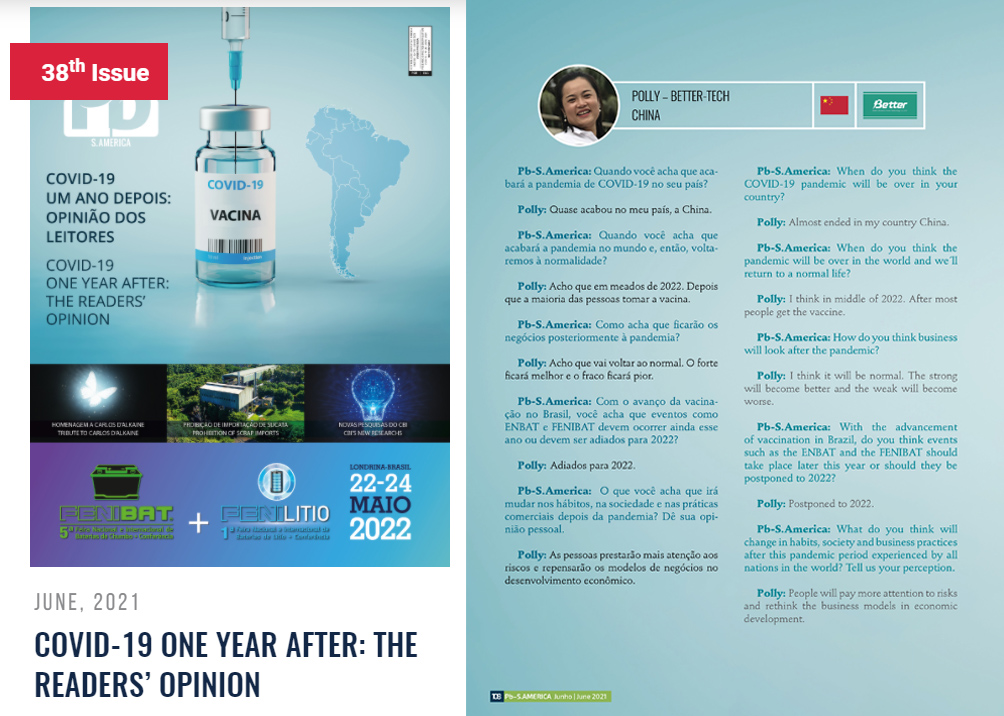 Pb-S.America : When do you think the COVID-19 pandemic will be over in your country?
Polly : Almost ended in my country China.
Pb-S.America : when do you think the pandemic will be over in the world and we'll return to a normal life?
Polly:I think in middle of 2022,After most people get the vaccine.
Pb-S.America : How do you think business will look after the pandemic?
Polly:I think it will be normal,The strong will become better and the weak will become worse.
Pb-S.America :With the advancement of vaccination in Brazil,do you think events such as the ENBAT and the FENIBAT should take place later this year or should they be postponed to 2022?
Polly:Postponed to 2022.
Pb-S.America : What do you think will change in habits,society and business practices after this pandemic period experienced by all nations in the world?Tell us your perception.
Polly:People will pay more attention to risks and rethink the business models in economic development.