Congratulations to BETTER for becoming a member of China Industrial Association of Power Sources
15-09-2021
Recently, Better(Xiamen) Power Supply Technology Co., LTD. (Better Power) formally joined the China Industrial Association of Power Sources and became its member.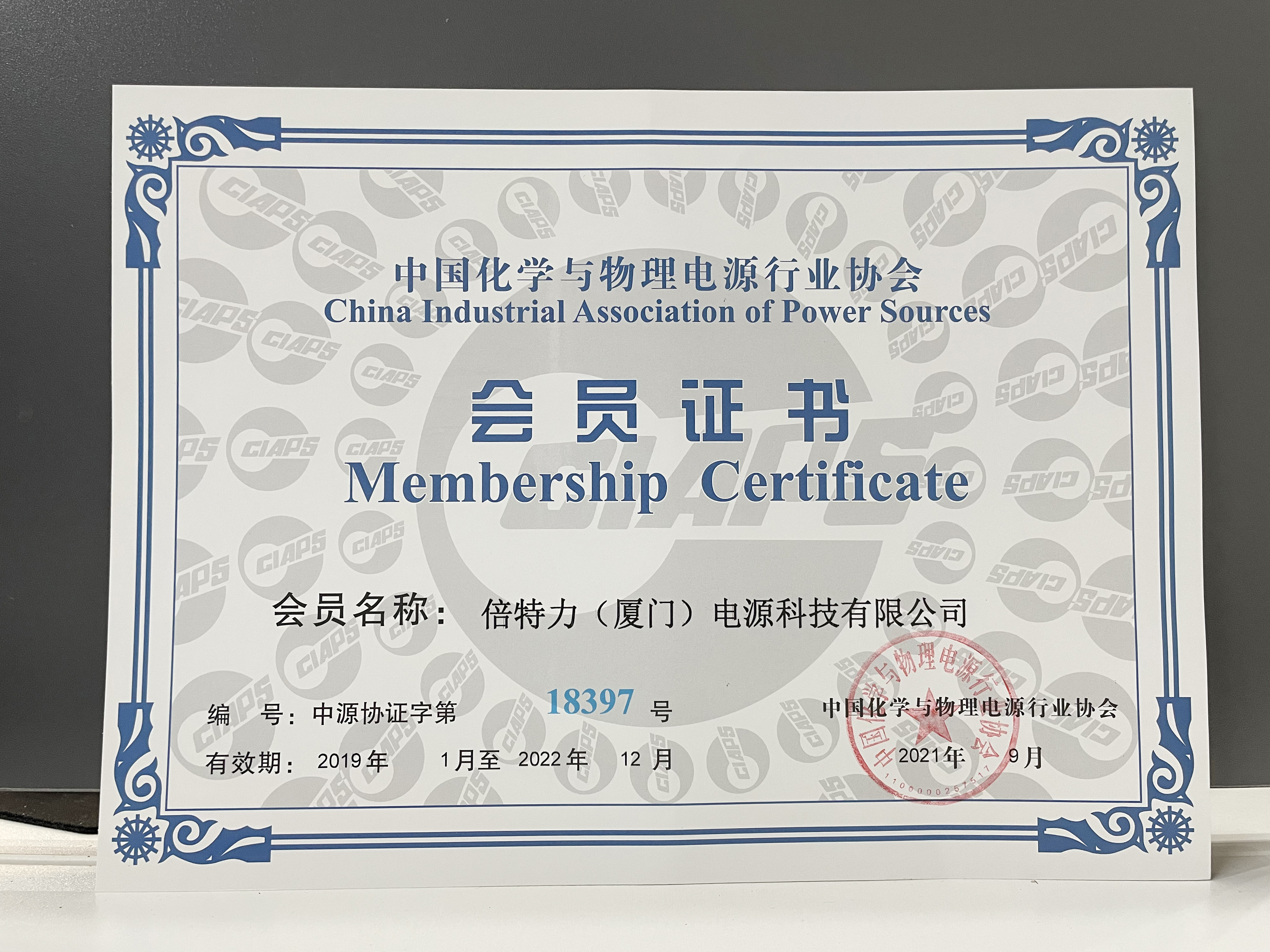 China Industrial Association of Power Sources (CIAPS) was established in December, 1989,which is a national first-level industry association registered by the Ministry of Civil Affairs of the People's Republic of China. The association keeps good cooperative partnerships with internationally renowned academic organizations, industrial associations and multinational corporations in the battery field, which actively promotes technical exchanges and cooperation with relevant foreign institutions, so that China has transformed from the major battery manufacturer and battery exporter to powerful battery country,which strives to promote the healthy and rapid development of China's battery industry.
This time,the official membership of the China Chemical and Physical Power Supply Industry Association of China is not only the association's full affirmation of Better Power's outstanding comprehensive strength, industry influence and reputation in the lead-acid battery industry, but also it carries the expectation that Better Power can achieve more results and contribute greater strength in the global lead-acid battery manufacturing industry in the future.
Better (Xiamen) Power Technology Co., Ltd. is an innovative enterprise that provides turn-key solutions for lead-acid battery manufacturing equipment and complete sets of equipment to the world. The company has the advanced lead-acid battery equipment research and development, manufacturing capacity, and gather the excellent mechanical engineers and battery experts in the industry for many years.Based on the development of the global lead-acid battery manufacturing industry, the company vigorously develops engineering project integration services and is committed to providing customers with integrated services. A general contracting system integration service integrating R&D and design, project construction, complete equipment, installation and commissioning. The main business is lead-acid battery manufacturing equipment and complete equipment turnkey solutions, such as plate manufacturing-battery assembly-battery formation-
environmental protection systems, etc. At the same time, it provides raw materials, battery factory design, battery product design&tooling, battery manufacturing technical support, battery production management guidance and consulting for battery production.
In the future ,Better Power will continue to "let made in China beautify the world" as its mission, and actively implement the 4P service standard: good products-competitive price-free planning-one-stop intimate service into the actual production, operation and management process. Starting from China, serving the world, and working hard for the vision of " To Be The Most Professional &Resource-rich Operator in the lead-acid battery industry".