20th Asian Battery Conference And Exhibition. (20ABC Exhibition)
05-09-2023
Exhibitor:
Better Technology Group Limited

Date:
2023.9.5 - 9.8
Booth No.:
44&29
Contact Person:
Jany +86 18850161091
Sokha Siem Reap
Resort&Convention Centre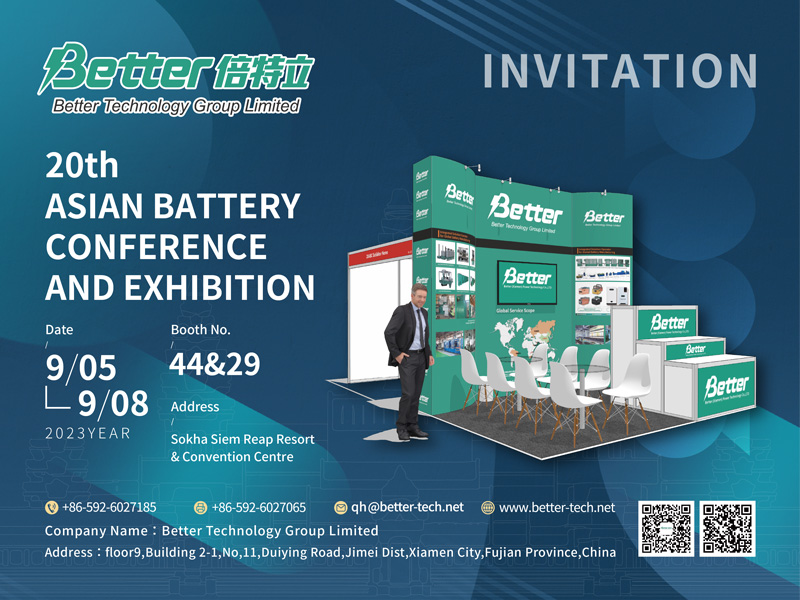 The 20th Asian Battery Conference and Exhibition (20ABC) will be held in Siem Reap, Cambodia from the 5th to 8th of September 2023. The 20ABC is Asia's No.1 lead-acid battery themed conference and exhibition.
The Asian Battery Conference offers a great opportunity for the world's leading battery industry's C-level executives, marketers, technical staff, and sales teams biennially to remain updated on the new and emerging technologies. The 20ABC provides us with the great opportunity to exchange ideas on the latest developments in emerging technologies, helps to promote peer-to-peer communication and broaden international businesses, informs us with the latest conceptual research results through the concurrent forums and offers insights of future technological trends and development blueprints to set up the trends for global market.



Better Technology Group Limited is a fully integrated solutions provider in the global battery manufacturing industry with its operations having gradually extended to nearly 120 countries and regions worldwide. Now, Better Technology Group Limited is planing to unveil its cutting-edge technologies and innovative equipment related to lead-acid batteries and lithium-ion batteries at the 20th Asian Battery Conference and Exhibition.






Better Group extends a sincere invitation to all representatives and partners to join us in the 20th Asian Battery Conference and Exhibition, Booth No. 44&29. We're looking forward to continuously collaborating with our customers and partners in the following future, contributing our effort and wisdom to the intelligentization of the global battery manufacturing industry and the development of new energy industry, and jointly creating new possibilities for the value realization of battery manufacturing industry so as to picture a world of more intelligence and lower carbon emissions!








-->